Summer Camps are now available to book!
On this page we have detailed some helpful information and responses to frequently asked questions. We hope you find this useful but if you do have any questions at all please do not hesitate to get in contact with us!
We aren't as fussy as Wimbledon so clothing can be as bright as you like. Just sport related tops and loose fitting trousers or shorts will be fine. Clothing does need to be weather appropriate. If it is wet please bring a coat or jacket as we will play on unless it is unsafe to do so. Wear lots of layers when it's cold and sun hats in the summer. Footwear must be appropriate so trainers only. No crocs, sandals or school shoes please.
Having a racket to start with is not essential at a younger age. We do have some rackets available to hire for the coaching sessions and holiday camps. We always encourage our players to have their own racket as it gives them a chance to increase the time they play outside of their session. Even just a hit about in the garden will help to improve coordination. If you are looking to buy a racket we do have some available in our online shop or if buying elsewhere please stick to the major tennis brands (Wilson, Yonex, Head, Prince) and stay away from cheaper 'own' brands as the materials are far poorer quality and lots do not even have proper grips. They tend to be heavier and more difficult to use as well.
Whatever the weather please send your child with a drink as tennis is hard work. Please bring a racket if you have one, all balls and other equipment is provided. We cannot provide sun cream so if it is needed this needs to have been applied.
What happens if it rains or in bad weather
We will always try to continue coaching sessions where possible, unless it is unsafe to do so such as if there is ice or snow on the courts. Sessions will normally always continue in rain. If sessions do need to be cancelled then we will contact you to let you know, giving you as much notice as possible. If two or more sessions are cancelled within a term then credits towards the following term can be given.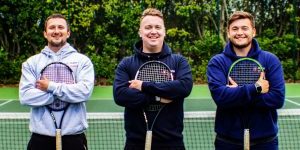 Read about our team! We have three full time coaches plus support from several coaching assistants who have had lessons with us for years.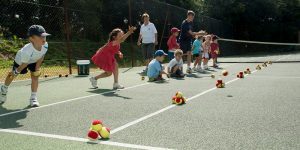 Our passion is making tennis more of a sport than a hobby. We try to make everyone actually play tennis, not just learn to hit a ball.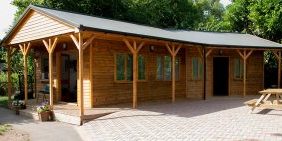 We coach at Peppard Tennis Club, just outside of Henley, where there are six well maintained courts with good facilities and lovely surroundings.
"Hello – I just wanted to say thank you for another great year with you. I can only imagine how tricky it's been to work with the ever-changing rules but you did it.
Sam just absolutely loves coming to your classes. How you manage to get children with the co-ordination of jellyfish to get to the point of having rallies is beyond me…."
Lucy, term time parent
"I can highly recommend the whole team at Teach Me Tennis.
My son (age 7) has attended two so far of the Summer camp sessions and really enjoyed them".